Welcome to our holiday homes!
We're renting holiday homes in Tammela, between two national parks. It's only about 100 km from Helsinki, Turku, Tampere, Lahti and Pori. Tammela is a large municipality in Southern Finland and there is about 200 lakes and lots of beach line.
Nature is the main attraction in Tammela. There is a strong cultural history and lot of colourful events. The center of the municipality is close to our holiday homes, about 5 km. There is grocery stores, shops, pharmacy, library and a bank. Bigger cities are not so far either: Forssa 15 km and Hämeenlinna 45 km. Our roads are in good condition and easy to drive with a car or a bicycle.
Villa Hilupilttuu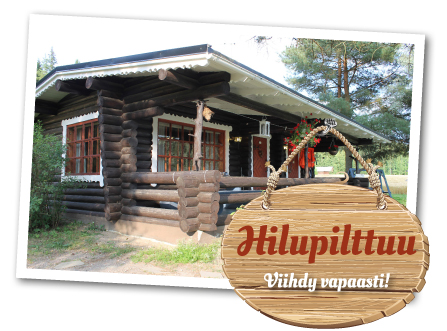 Romantic ornamented villa built by logs, in the middle of an authentic rural fields and the pine forest. Own, peaceful yard and a swimming pond with a pier.
30 m²
2 beds + 2 extra beds
kitchen, sauna, toilet, shower, a woodshed
This is a functional and an atmospheric cottage, which has been very well to fit all the amenities and facilities for good and easy holiday.
You can enjoy the spacious, good heating sauna and large fireplace. Youthful comfortable interior, a small space an intimate atmosphere is ideal for a couple or a small family. Many people have also arrived alone with their pets to enjoy a safe, free terrain outside, for example a dog.
You can go for a row, you can observe birds or fish. The nearby Lake Kuivajärvi valuable species is reachable! Rental price includes a boat harbor and a boat license with safety vests.
You can cycle via idyllic small roads with many routes. You are free to use bicycles for men and women (1+1). There is safety parking place for a car.
Villa Lake Kuivajärvi
35 m² + second floor 20 m²
5 beds + 2 extra beds
kitchen, sauna with shower, toilet, loft
woodshed
2 x terrace
playhouse
Countryside landscape of beach, easy holidays in well-equipped cottage! Spacious, sunny southern hillside in a quiet location inforest- and beach environment.
There is a private, shallow and sandy beach, a pier and a boat with safety vests. From the beach you will find barbeque facilities and outdoor furnitures. Lake Kuivajärvi is a nationally valuable lake with abundant fish and bird species. The acquisition of fishing licenses given for assistance if required.
Villa Vuorenpää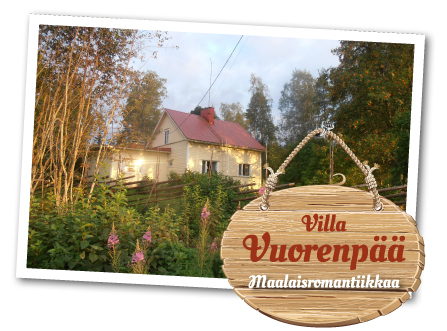 In Villa Vuorenpää you can enjoy a traditional, Finnish farm lifestyle with granny's country romantic style! Location in the middle of countryside nature, which opens to breathtaking arable landscapes.
70 m²
4 beds + 2 extra beds
kitchen, living room, 2 bedrooms
sauna, bathroom, shower and toilet
Separate cottage with two beds (only in summertime)
Book your holiday home via:
You can find us also:
List prices:
Villa Hilupilttuu
from 278 eur / weekend
620-735 eur / week
Villa Vuorenpää
from 291 eur / weekend
680-735 eur / week
Villa Lake Kuivajärvi
from 354 eur / weekend
628-1100 eur / week
Check the sales site prices:
You can also ask for an offer straight from us:
or
tel. +358 (0)400  249 558
Links: